BROWNSVILLE TN (January 20, 2023): The West Tennessee Delta Heritage Center invites you to celebrate the life and legacy of Blues Pioneer Sleepy John Estes Saturday, January 28, during Sleepy John's Country Blues Jam. The annual birthday celebration will focus on the lost Fife and Drum traditions of Tennessee followed by birthday cake and an acoustic Blues jam.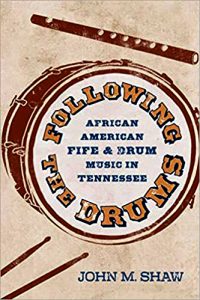 Beginning at 11 am, Author John M. Shaw will speak about his new book, Following the Drums: African American Fife and Drum Music in Tennessee. Following the Drums, takes the music from its roots in West Africa to its prominence in African American communities during the time of Reconstruction, detailing its use as a rallying tool for political militancy and as a community music for funerals, picnics and dances. The book is a journey through African American history and Tennessee history with music powering the story. The presentation will be followed by a Q&A session as well as a book signing. Shaw, an ethnomusicologist and a music researcher, writer, musician and composer, is currently pursuing his doctorate at the University of Memphis.
An open acoustic jam will follow at 2 p.m. Participants are asked to bring your own instruments, voice or just your love for the music. The all acoustic jam session will be held in music circle form and is non-competitive. Everyone, and all skill levels, is welcome to join in. Throughout the afternoon, you are also invited to tour the Delta Heritage Center and grounds including the last home of Estes.
Estes, born January 25, 1899 near Ripley, Tenn., grew up in northeast Haywood County near Nutbush. He made his first guitar from a cigar box and came along at a time when Blues was just becoming a recognized genre in African American folk music. A rudimentary guitar player, Estes focused more on his unique style of "crying" vocals. He was one of the first generation of singers to become Blues specialists, distinguishing himself with his vocal style and through his songwriting. He sang about friends, acquaintances, and events with each song, painting a picture of life in a small rural southern town. His recordings are prized by collectors as examples of authentic "country blues."
Along with the book signing and jam session, you are invited to enjoy birthday cake and celebrate what would have been Sleepy John's 124th birthday. For more information about the event, call the Center at 731-779-9000 or email [email protected].
About the Center: The West Tennessee Delta Heritage Center, in Brownsville, is a music heritage destination that offers a refreshing Southern experience showcasing the history and culture of rural West Tennessee. Inside visitors can learn about the history of cotton, explore the scenic and "wild" Hatchie River and get to know the legendary musicians who call West Tennessee home. Also located on the grounds is the Tina Turner Museum at Flagg Grove School, the childhood school of Tina Turner, and the last home of Blues pioneer Sleepy John Estes. The Delta Heritage Center is also a featured stop along the Americana Music Triangle connecting Nashville, Memphis and New Orleans. To learn more about the Center, visit www.westtnheritage.com or call 731-779-9000.